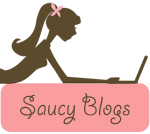 I'm so excited
that, today, the day that I'm tired from being up too late with Baby Blue because she wouldn't sleep, before getting up early for church... although a wonderful church I must say!  The day my nose had been a little runny because of this crazy changing weather. Today,
a lazy Sunday afternoon...
Today, I'm SAUCY!!
My husband thinks I'm saucy,
and most days, that's enough.  Sometimes, I think I'm saucy, but today...
pause to relish in the moment...
And
welcome, all my wonderful new friends.  
I'm going to go wipe my nose,
put on a cute little outfit and some lip gloss
so I can prance around all day feeling quite...