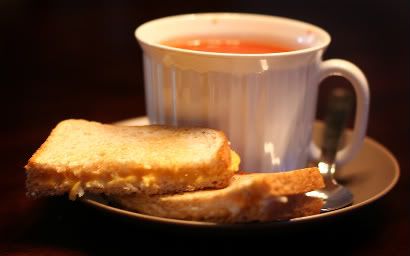 A perfect ending to a chilly fall day.

 Grilled Cheddar-ella sandwiches (Cheddar and Mozzarella) and a warm cup of tomato soup.

 I love how Baby Blue climbs up to the table ready to eat this tasty feast.

 She loves it too.  She likes to

"dip my bread like Daddy does"

into the soup.
Good soup. Good sandwich. Good conversation.

 They all went hand-in-hand around our table last night.
(Oh, and just an update on Baby Blue... she is perfectly normal and healthy this morning.  I did check on her last night, and she was on the floor!!  She must've fallen out of her bed.  So I scooped her up in my arms, and sat with her for awhile as she went right back to sleep, none the wiser.... again, another analogy that doesn't make a whole lot of sense... why didn't I just say that she wasn't aware.  I digress, thanks for everyone's encouragement and prayers!!)